The Technology for Resistance
The Technology for Resistance is a public art project supported by ARKO(Arts Council Korea) in 2023 and 2024. It creates various opportunities to promote community discussion and resolution focusing on social problems deepened by technology gaps according to race, age, gender, region, ethnicity and wealth. It has two main goals; technology education at various levels, and building diversity of discourse on our social technology that needs to be discussed. Criticizing indiscriminate acceptance of state-of-the-art technology to meet the social demands of technology power, it questions the hierarchical and gender-biased approach of traditional technology culture and considers the methodology of inclusion, accessibility, and feminism to build a new horizontal technology culture. In this process, it breaks down the hierarchical classification of technology divided into high-tech vs low-tech and reveals social problems that have been omitted from technology-oriented social structures.
Service
(*UPCOMING*) public art project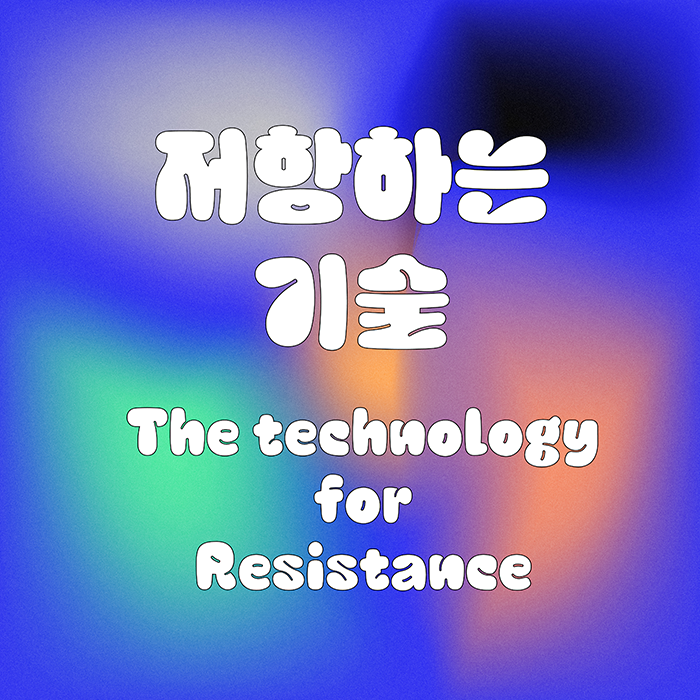 1. The Resisters
It is an eight-week technology education program for young women creators, disabled artists, and creators who are in a break or career transition period. The Resisters, which was conducted for 10 emerging artists in 2021, will be revised and continued focusing on education. The project will be held at WOMAN OPEN TECH LAB located in Euljiro, Seoul, and will begin the open call for 10 participants. In 2023, workshops will be held for two months from July to August, and its open call will take place in June. In 2024, workshops will be held from February to March, and participants will be selected in January.
2. Technology Research Group
Technical Research Group, which develops a critical perspective on technology and prepares technical discourse for creation, will be held in Gwangju Barim in 2023 and Busan Art Space Youngju Mansion in 2024. Art spaces, Barim and Youngju Mansion are the places where meetings are held and are also responsible for leading each research group and curating its exhibition. A meeting will be held every two weeks for six months with up to 10 participants and an exhibition will be held as the presentation of the final research results. The 2023 group will start in June and conduct research with the aim of exhibiting in December. In May, the topic of the research group and the open call will be presented. 2024 starts the meeting in April and studies with the aim of exhibiting in October. In March 2024, its topic and the open call will be guided.
3. Fem Tech Talk
A periodical zine, which helps read and criticize contemporary technology from a feminist perspective is published three times a year. The first issue will be published in May 2023, aiming an easy, light, readable technology culture magazine. A total of six versions will be distributed free of charge by 2024.
4. Translating, Transposing, Trail blazing(TBA)
If the world is divided into the "outside the technosphere" and "technosphere" where technology influences and technology initiatives are concentrated, this study names the existence between them as "mediators" and sheds light on their role and meaning in modern society. Artist alm chung conducts in-depth interviews with artists and educators who play the role of "mediators" in North America and Asia. In July 2024, the forum will be held in Seoul, Gwangju, and Busan as a result of the study. This study will explore the educational philosophy and methodology of "mediators" who mediate technology and explore our technology culture, which is always in a position to pursue Western-led technology trends that change rapidly.
5. The Synthesizer Club
It proposes a community that explores synthesizers to create opportunities for technology enjoyment for local and technical minorities and to develop motivation. In exploring the principles of synthesizers, concepts that frequently appear in contemporary technologies such as digital-analog concepts, basic electronics theory, oscillators, and algorithms can be studied, and above all sharing experiences of creating and sensing sound together is most important. There will be a total of 6 gatherings to experience various synthesizers, and a showcase of participants to perform. It will be held in Gwangju from November to December in 2023 and in Busan from September to October 2024. The open call begins one month before the community begins.
This page contains the overall plan for the public art project 'The technology for resistance'. News and archives of the detailed projects mentioned above will be open on an independent page or submenu of this site later.